What is Oldenlandia?
Oldenlandia or known as Snake-Needle Grass (百花蛇舌草) is one of the oldest Chinese herbs in traditional Chinese medicine. It grows mainly in the South eastern of China distributed over Guangxi, Guang-dong and Fujian provinces. The whole plant (stems and leaves) of Oldenlandia can be used for medical purposes.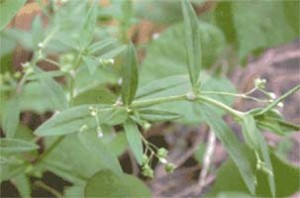 Oldenlandia medical function:

Oldenlandia has slightly bitter, sweet and cold properties. It's used to clear body heat, resolve toxins, promoting blood circulation to subdue swelling, and promoting diuresis. Oldenlandia can be used internally or externally. It's good to treat sore throats, urinary tract infections, alterative herb that lowers fever, treat sores and carbuncles on the skins. Oldenlandia is famous to treat snake bites.
Besides, Oldenlandia is extensively used in modern Chinese Medical practice for treatment of viral infections (especially hepatitis) and cancers.
Where to get Oldenlandia?
You can get Oldenlandia from most of the Chinese medicine shop or else you can look for Chinese herbalist. Currently, there is a China company come out with Oldenlandia drink. These Oldenlandia drink is very effective to clear body heat and it's very convenient for you to keep too. As my body always get heated easily, i always take Oldenlandia drinks to clear body heat. The packaging is just look like a normal soft drink which come in a aluminum tin. Try now to clear body heat with Oldenlandia drinks 🙂
** Notes: Pregnant lady should consult your doctor before taking any Oldenlandia. **